Posts for: July, 2017
By Franklin Dental
July 22, 2017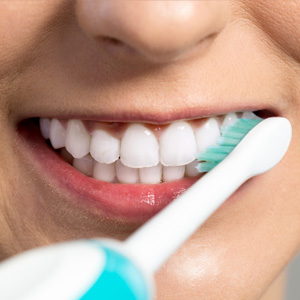 Archeologists can tell us quite a bit about our primitive ancestors. For example, because of their coarse, abrasive diet and a primitive understanding of oral hygiene, their teeth had a rough go of it. They simply wore out faster — a contributing factor, no doubt, to their short life spans of thirty or forty years.
But thanks to improvements in lifestyle, healthcare and diet, people live much longer today. And so do their teeth, thanks to advances in dental care and disease prevention. While teeth still wear to some degree as we age, if we care for them properly with daily oral hygiene and regular dental visits, we can keep that wear to a minimum. Teeth truly can last a lifetime.
Unfortunately, it's still all too common for people to lose their teeth prematurely. The main reason: the two most prevalent dental diseases, tooth decay and periodontal (gum) disease. Tooth decay arises from high concentrations of mouth acid that erode enamel, teeth's irreplaceable protective shell. Gum disease is an infection that damages the bone supporting tissues as it infiltrates deep below the visible gum line.
While they occur by different mechanisms, the two diseases have some commonalities. They both, of course, can lead to tooth loss. And, they're both triggered by oral bacteria found in dental plaque, a thin film of food particles built up on tooth and gum surfaces. Multiplying bacteria feed on plaque and produce acid as a by-product. And certain bacterial strains infect gum tissues.
Both of these diseases can be treated successfully, especially if detected early. But the better approach is to prevent them in the first place. This introduces another commonality — they share the same prevention strategy of daily, comprehensive brushing and flossing for plaque removal, regular dental cleanings and checkups, and a sharp eye for any signs of disease like bleeding gums or tooth pain.
With diligent dental care and close attention to your oral health, you increase your chances of avoiding the full threat of these diseases. And with healthy teeth, you have a better chance of living a long and healthy life.
If you would like more information on minimizing tooth wear, please contact us or schedule an appointment for a consultation. You can also learn more about this topic by reading the Dear Doctor magazine article "How and Why Teeth Wear."
By Franklin Dental
July 07, 2017
What's an actor's most important feature? According to Vivica A. Fox, whose most recent big-screen role was in Independence Day: Resurgence, it's what you see right up front.
"On screen, your smile and your eyes are the most inviting things that bring the audience in" she said. "Especially if you play the hot chick."
But like lots of people, Vivica reached a point where she felt her smile needed a little help in order to look its best. That's when she turned to a popular cosmetic dental treatment.
"I got veneers years ago," Ms. Fox told Dear Doctor magazine in a recent interview, "just because I had some gapping that probably only I noticed."
What exactly are dental veneers? Essentially, they are thin shells of lustrous porcelain that are permanently attached to the front surfaces of the teeth. Tough, lifelike and stain-resistant, they can cover up a number of defects in your smile — including stains, chips, cracks, and even minor spacing irregularities like the ones Vivica had.
Veneers have become the treatment of choice for Hollywood celebs — and lots of regular folks too — for many reasons. Unlike some treatments that can take many months, it takes just a few appointments to have veneers placed on your teeth. Because they are custom made just for you, they allow you to decide how bright you want your smile to be: anywhere from a natural pearly hue to a brilliant "Hollywood white." Best of all, they are easy to maintain, and can last for many years with only routine care.
To place traditional veneers, it's necessary to prepare the tooth by removing a small amount (a millimeter or two) of its enamel surface. This keeps it from feeling too big — but it also means the treatment can't be reversed, so once you get veneers, you'll always have them. In certain situations, "no-prep" or minimal-prep veneers, which require little or no removal of tooth enamel, may be an option for some people.
Veneers aren't the only way to create a better smile: Teeth whitening, crowns or orthodontic work may also be an alternative. But for many, veneers are the preferred option. What does Vivica think of hers?
"I love my veneers!" she declared, noting that they have held up well for over a decade.
For more information about veneers, please contact us or schedule an appointment for a consultation.