Posts for tag: root canal treatment
By Franklin Dental
June 17, 2019
Dental implants have soared in popularity thanks to their life-likeness, functionality and durability. But these prized qualities have also created an ironic downside—people are much more likely to replace a tooth with an implant rather than go through the time and effort to preserve it.
We say downside because even though an implant is as close to a real tooth as we can now achieve in dentistry, it still can't rival the real thing. It's usually in your long-term health interest to save a tooth if reasonably possible. And, there are effective ways to do so.
Most dental problems arise from two common oral diseases. One is tooth decay, caused by contact with acid produced by bacteria living in dental plaque. We can often minimize the damage by treating the early cavities decay can create. But if we don't treat it in time, the decay can advance into the tooth's pulp chamber, putting the tooth in danger of loss.
We can intervene, though, using root canal therapy, in which we drill into the tooth to access its interior. We clean out the decayed tooth structure, remove the diseased pulp tissue and fill the empty chamber and root canals to seal the tooth and later crown it to further protect it from re-infection.
Periodontal (gum) disease also begins with bacteria, but in this case the infection is in the gum tissues. Over time the ensuing inflammation locks into battle with the plaque-fueled infection. This stalemate ultimately weakens gum attachment, the roots and supporting bone that can also increases risk for tooth loss.
We can stop a gum infection through a variety of techniques, all following a similar principle—completely removing any accumulated plaque and tartar from the teeth and gums. This stops the infection and starts the process of gum and bone healing.
You should be under no illusions that either of these approaches will be easy. Advanced tooth decay can be complex and often require the skills of an endodontist (a specialist in root canals). Likewise, gum disease may require surgical intervention. But even with these difficulties, it's usually worth it to your dental health to consider saving your tooth first before you replace it with an implant.
If you would like more information on how best to treat a problem tooth, please contact us or schedule an appointment for a consultation. You can also learn more about this topic by reading the Dear Doctor magazine article "Save a Tooth or Get an Implant?"
By Franklin Dental
July 12, 2018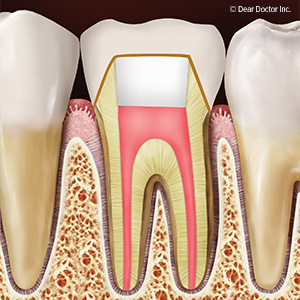 Along with periodontal (gum) disease, tooth decay poses one of the two greatest threats to your teeth. Cavities are just the start: if decay invades the pulp, the tooth's innermost layer, the infection created can continue to advance through the root canals to the supporting bone. This worst case scenario could cost you your tooth.
But we can stop this advanced decay in its tracks with a procedure called a root canal treatment. A root canal essentially removes all the infected tissue within the tooth and then seals it from further infection. And contrary to its undeserved reputation for being painful, a root canal can actually stop the severe tooth pain that decay can cause.
At the beginning of the procedure, we deaden the affected tooth and surrounding tissues with local anesthesia—you'll be awake and alert, but without pain. We then isolate the tooth with a dental dam of thin rubber or vinyl to create a sterile environment around it to minimize contamination from bacteria found in saliva and the rest of the mouth.
We then drill a small hole through the enamel and dentin to access the interior of the tooth. With special instruments, we remove and clean out all the diseased or dead tissue in the pulp chamber and root canals. After disinfecting the empty spaces with an antibacterial solution, we'll shape the root canals to make it easier to perform the next step of placing the filling.
To fill all the root canals and pulp chamber, we typically use a rubber-like material called gutta-percha. Because it's thermoplastic ("thermo"—heat; "plastic"—to shape), we can compress it into and against the walls of the root canals in a heated state to fully seal them. This is crucial for preventing the empty tooth interior from becoming re-infected. Afterward, we'll seal the access hole with its own filling; later, we'll bond a permanent crown to the tooth for additional protection and cosmetic enhancement.
After the procedure you may have some temporary minor discomfort usually manageable with aspirin or ibuprofen, but your nagging toothache will be gone. More importantly, your tooth will have a second chance—and your dental health and smile will be the better for it.
If you would like more information on treating tooth decay, please contact us or schedule an appointment for a consultation. You can also learn more about this topic by reading the Dear Doctor magazine article "A Step-By-Step Guide to Root Canal Treatment."
By Franklin Dental
April 10, 2016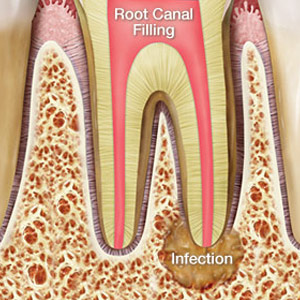 Most first-time root canal treatments achieve their purpose in saving an internally decayed tooth and extending its life to match those of the patient's non-decayed teeth. Occasionally, though, a root canal-treated tooth may become re-infected by decay.
There are a number of reasons for this: the permanent crown meant to add further protection against decay may have been delayed, giving bacteria an opening to re-infect the tooth; it's also possible the original seal for the pulp chamber and root canals after filling wasn't sufficient to prevent bacterial contamination.
There's also another reason that's very difficult to foresee — the presence of narrow, curved root canals in the tooth that can pose complications during the procedure. Some of these known as accessory or lateral canals branch off the main canals to create a complex network that's difficult to detect during the initial procedure. If they're not cleaned out and filled during the procedure any tissue trapped in them can remain infected and ultimately die. If these canals also open into the periodontal membrane at the attachment between the teeth and bone, the infection can spread there and become a periodontal (gum) infection that can trigger future tooth loss.
Fortunately, a reoccurrence of infection isn't necessarily a death sentence for a tooth. A second root canal treatment can correct any problems encountered after the first treatment, especially complications from accessory canals. It may, though, require the advanced skills of an endodontist, a dental specialist in root canal problems. Endodontists use microscopic equipment to detect these smaller accessory canals, and then employ specialized techniques to fill and seal them.
If you encounter pain or other signs of re-infection for a tooth previously treated with a root canal procedure, contact us as soon as possible. The sooner we can examine and diagnose the problem, the better your tooth's chances of survival by undergoing a second root canal treatment.
If you would like more information on tooth preservation through root canal treatment, please contact us or schedule an appointment for a consultation. You can also learn more about this topic by reading the Dear Doctor magazine article "Accessory Canals."