Posts for tag: root canal
By Franklin Dental
December 28, 2017
The CDC's National Center for Health Statistics estimates that 31.6 percent of adults over the age of 20 have untreated dental decay. The
longer a patient goes without treatment for decay, the higher the chance of tooth loss. You don't have to wait until a dentist diagnoses you with dental disease to take positive action. There are a few signs that you can look out for at home if you want to avoid serious dental issues in the future. If you notice these signs, make time to see your dentist Dr. John Olsen at Franklin Dental in Franklin, WI as soon as possible.

What Is a Root Canal?
Some dental problems can only be resolved by treating the inner parts of a tooth. A root canal is a procedure that dentists use to cure tooth infections that are caused by dental decay. Root canals also help patients who have experienced trauma to a tooth due to an injury. The only way to preserve the health of the tooth and keep it from eventually falling out is to thoroughly remove all diseased or damaged tissue. The sooner you see your Franklin, WI dentist for a root canal, the higher the probability that the tooth will heal.

Signs That You May Need Root Canal Therapy
Some patients wait too long to see a dentist for root canal therapy. Take note of the signs that you may have an urgent problem that requires this treatment:

- Your teeth hurt to the point where you have serious jaw pain and even headaches.
- You find yourself chewing on one side of your mouth to avoid discomfort.
- Unexplained sores are forming on the gumline.
- Bad mouth odor.

Preparing Yourself for a Root Canal
If you're in dental pain, having a root canal will not worsen the discomfort—it will give you much-needed relief. Many people are anxious about this procedure, but many find that it isn't that much different than having a cavity cleaned and filled. You and your Franklin, WI dentist will discuss sedation options to ensure that you have as comfortable an experience as possible. Before you know it, you'll be back to enjoying your favorite foods and living without nagging dental pain.

Make Time to Restore Your Dental Health
Your teeth matter, and you want to keep them for as long as possible. Root canal treatment will help you preserve your dental health. Call 414-425-7050 today to schedule an appointment at Franklin Dental in Franklin, WI with Dr. John Olsen.
By Franklin Dental
May 08, 2015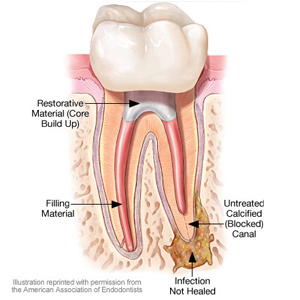 When decay spreads to the tooth's inner pulp, a root canal treatment may be necessary to save it. It's a common procedure: after removing all tissue from the pulp, the pulp chamber and root canals are filled with a special filling. The tooth is then sealed and a crown installed to protect the tooth from re-infection and/or fracture, possibly extending the tooth's life for many years.
Sometimes, however, the tooth doesn't respond and heal as expected: the number, size and shape of the patient's root canals may have complicated the procedure; there may have been a delay before installing the final crown or restoration or the restoration didn't seal the tooth as it should have, both occurrences giving rise to re-infection. It's also possible for a second, separate occurrence of decay or injury to the tooth or crown to undo the effects of successful treatment.
It may be necessary in these cases to conduct a second root canal treatment, one that may be more complicated or challenging than the first one. For one thing, if the tooth has been covered by a crown or other restorative materials, these will most likely need to be removed beforehand. In cases where the root canal network and anatomy are challenging, it may require the expertise of an endodontist, a dental specialist in root canal treatments. Using advanced techniques with microscopic equipment, an endodontist can locate and fill unusually narrow or blocked root canals.
Because of these and other possible complications, a root canal retreatment may be more costly than a first-time procedure. Additionally, if you have dental insurance, your particular benefit package may or may not cover the full cost or impose limitations on repeated procedures within a certain length of time. The alternative to retreatment, though, is the removal of the tooth and replacement with a dental implant, bridge or partial denture with their own set of costs and considerations.
The complications and costs of a repeated procedure, though, may be well worth it, if it results in a longer life for the tooth. Preserving your natural tooth is in most cases the most desired outcome for maintaining a healthy mouth.
If you would like more information on root canal treatments, please contact us or schedule an appointment for a consultation. You can also learn more about this topic by reading the Dear Doctor magazine article "Root Canal Treatment."